Art Department add colour to Bridgerton for Season Two
1st April 2022
Art Department add colour to Bridgerton for Season Two
Regency-inspired drama, Bridgerton, with its extravagant design is back on Netflix for a second season. Working with Emmy award-winning Production Designer Will Hughes-Jones and Set Decorator Gina Cromwell to create the Bridgeton aesthetic were Art Department members Emma Davies (Production Buyer), Emily Beatty (Assistant Buyer), and Hannah Page (Set Dec Runner).
As well as recycling old furniture to match the colour design and adding extra height to the legs of chairs, the design team hired key pieces and sourced props from antique shops, flea markets, estate sales and online auction sites. Even "redundant sets" from the first season were "swung" into new sets including the Duke's courtyard from season 1 which was transformed into three different ballrooms, a cupboard, and an art academy room.
"We have used blue and ivory for Bridgertons, yellow and mint greens for the Featheringtons, and creams reds and gold for the Queen," Hugh-Jones tells House Beautiful. "By the time we get to the Danbury house, we [were] slightly running out of colors." After researching interiors of the Regency era for the Danburys, the team chose dusty pink which was a widely used colour of the time. The design of Bridgerton is not meant to be accurate historically, says Hughes-Jones in an interview with Shondaland. "We are a pastiche of the period, and therefore when it comes to the production design, we have to look at our historical references and then dial it up a few notches,"
(Images: Bridgerton Morning Room/Drawing Room. Mood board. Wedgewood blue and white are the key colors of the Bridgerton Family. Courtesy of Netflix0.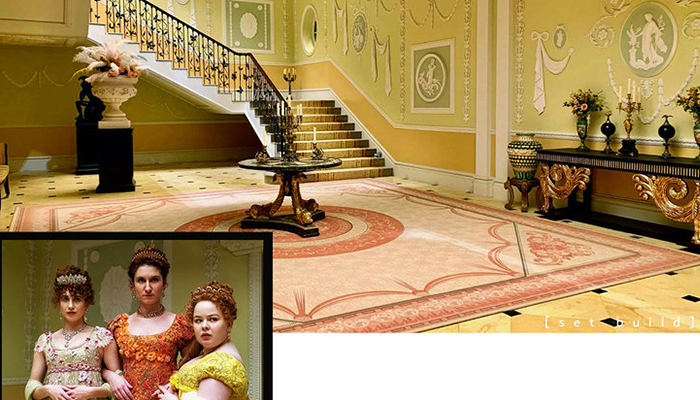 (Image: Featherington Entrance Hall. Inset: Harriet Cains, Bessie Carter, Nicola Coughlan as the Featherington sisters: Phillips, Prudence & Penelope. Photo by Liam Daniel ©2020 Netflix).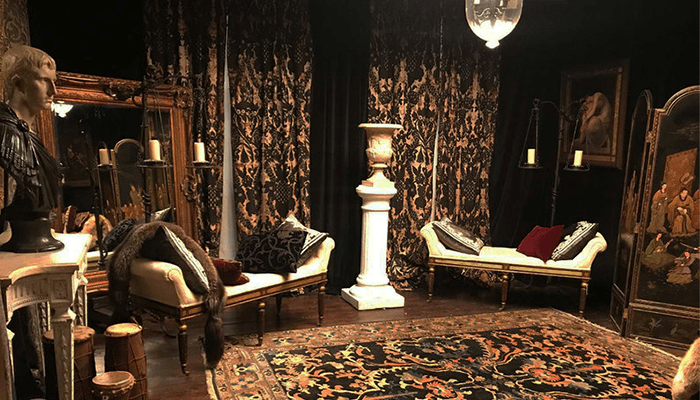 (Image: Granville Townhouse. Photo by Liam Daniel ©2020 Netflix)
(Feature image: Hastings Estate, Clyvedon…Behind-the-Scenes. The crew sets up a "Breakfast at Clyvendon" shot. Phoebe Dynevor, Regé-Jean Page. Photo by Liam Daniel © 2020 Netflix)